Amikor a férj látta, hogy nejének nincs sok hátra, ezt tette, és a nővér sem bánta.
Megdöbbent a haldokló nő, amikor férje becsempészett valamit a A férfi tudta, hogy hamarosan elveszíti feleségét, ezért úgy döntött, hogy szembemegy a kórház szabályzatával és egy nagyon szokatlan ajándékot vitt be a szobába.
Később a saját szavaival mesélte el a történteket a Facebook-on:
"A feleségemet egy műtéti beavatkozás után bent tartották a kórházban. Az orvosok nyilvánvalóan nem érték el a kívánt hatást, ezért néhány nappal a műtét után a feleségem nagyon legyengült. Nem tudott beszélni, enni és inni sem. Csak az intravénás táplálás tartotta még életben és nagyon erős fájdalomcsillapítókat kapott.
Nagyon ritka volt az a pillanat, amikor tisztán érthetően beszélni tudott. Egyik ilyen alkalommal azt mondta, hogy újra látni szeretné a kutyánkat.
A kutyát Bellának hívták, 22 kilót nyomott, szóval tökéletesen beilleszkedett a bőröndbe. Betettem Bellát egy átlagos bőrönde, persze vigyáztam arra, hogy kapjon elegendő levegőt, a cipzárt a tetején nyitva hagytam, majd beszálltunk az autóba és elmentünk a kórházba.
Amikor odaértünk, azt mondtam neki, hogy most néhány percre be kell zárjam a nyitott részt, de nemsokára látni fogja úrnőjét.
Hihetetlen volt; még csak nem is nyöszörgött, meg se mukkant. Amikor elhaladtam a nővérek mellett, azt mondtam nekik, hogy hoztam a feleségemnek néhány dolgot, hogy sokkal jobb legyen neki az ottlét. "Csak nyugodtan, semmi probléma," válaszolták.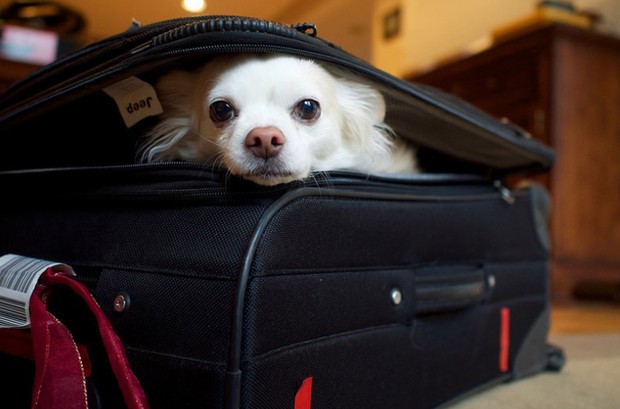 A feleségem még aludt, amikor beléptünk a szobába. Kinyitottam a bőröndött és Bella egyenesen felugrott az ágyra. Gyengéden feleségem mellkasához simult és mindezt anélkül, hogy a kábeleket leszakította volna.
Forrás: blikkruzs.blikk.hu